Smart Campus Herning Prize goes to students on the MSc in Technology-Based Business Development
"We were sitting on the edge of our seats until the very last second," says Rasmus Præstegaard, who together with his fellow student Daniel Wiencken won this year's Smart Campus Herning Prize sponsored by AUHE Midwest Support Fund. "We didn't know who else had participated, but when we stepped into the lecture theatre and saw our opponents, we got a bit nervous as they're all really talented," Præstegaard says with a smile as he holds on tightly to his award certificate.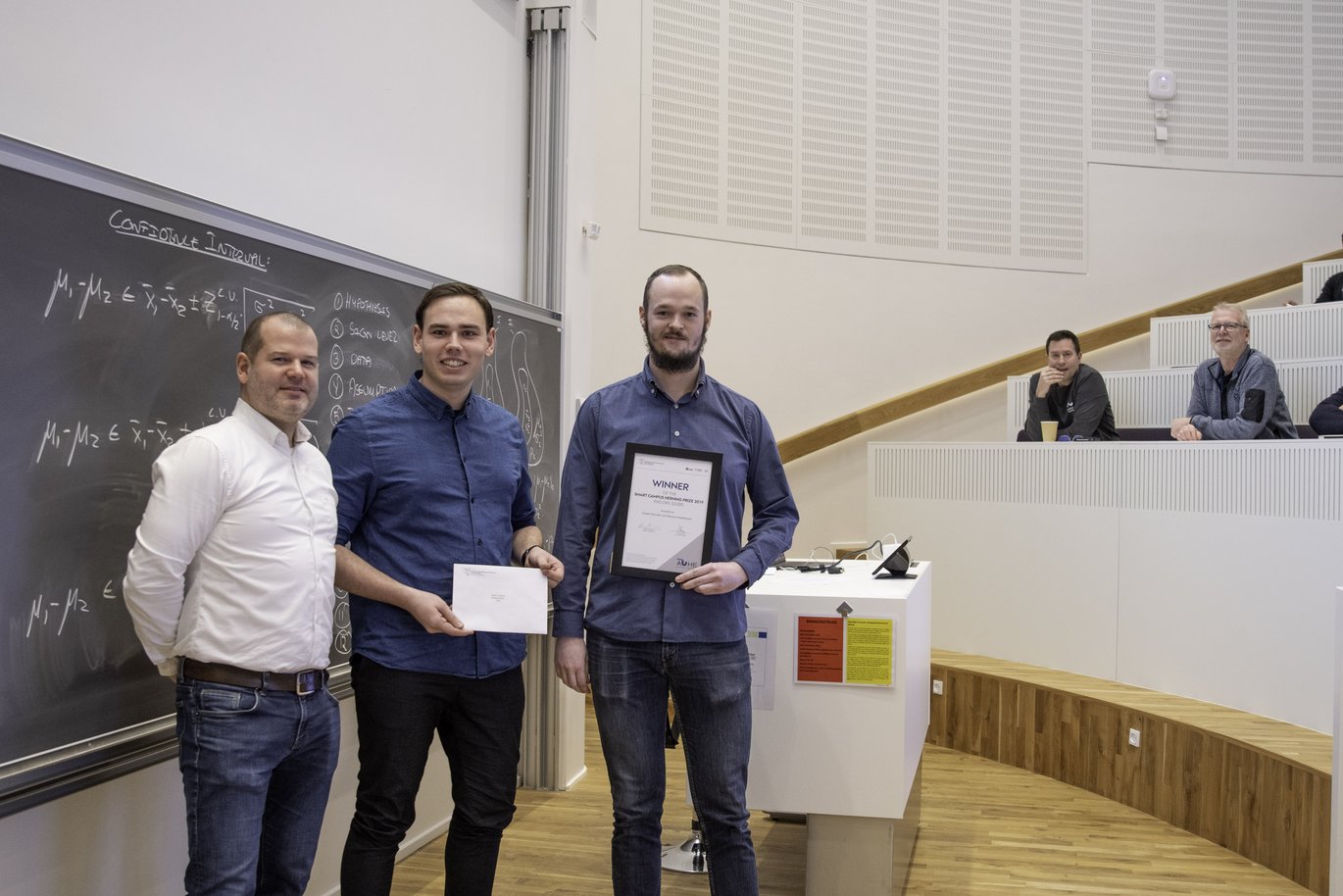 Data to shape the future of education
"We launched the Smart Campus Herning Prize last autumn to spark a greater student interest in our joint campus. The idea was for students to come up with ways in which we can use the latest technologies to improve our campus and the entire study experience," says Associate Professor Mirko Presser. He coordinated the entire competition and chaired the committee responsible for picking a winner among the submitted ideas.
"We received lots of good proposals and ideas, but one of them stood out. Here, the students had developed the idea of how to improve degree programmes by using digital tools to collect data. Data that can then be used to improve the teaching and the relationship between student and lecturer, among other things," says Presser.
The winning idea Edumondo is a so-called Learning Analytics System that can help students, lecturers and educational institutions improve their performance. Just as the sports tracker app Endomondo, which collects data on sports activities allowing users to improve their performance on an ongoing basis. In the same way, Edumondo collects data during lectures and classes. This data can subsequently be used by the lecturer and the students to improve their efforts.
"Edumondo is our vision for the future of education. Today, the degree programme offering is global and online, and you can study more or less in the whole world from the comfort of your own desk. That's why it's important that we as a university consider how we can optimise the classroom experience. And that's where Edumondo enters the picture," says Daniel Wiencken.
Research article coming up
"We were up against a really strong field of students, so we're just so happy and relieved to have won," says Præstegaard. The two engineering students are still not sure how they will spend the DKK 20,000 that came with the prize. Instead, they are focusing their efforts on how to develop Edumondo further.

"In fact, our goal is not to create the product Edumondo, but to create a focus on how to improve degree programmes, the way in which we study, and the teaching methods. We'd like to contribute to initiating a discussion of how ideas like Edumondo may improve the degree programme experience. For that reason, out next goal is to write a research article about the topic. Hopefully, the article will get published and in that way perhaps contribute to kickstarting the debate," says Præstegaard when describing their future plans for Edumondo.
Thinking outside the box
Rasmus Præstegaard and Daniel Wiencken were far from the only students who submitted a good proposal to the Smart Campus Herning Prize competition. There were 10 excellent proposals in total. One of these won the so-called Querdenker prize, which was awarded to the craziest and most unconventional idea.
"The idea behind the Querdenker prize is to celebrate those who dare to think outside the box. We received a proposal that focused on a robot controlled by an online student, who would then be able to participate in class from home, while maintaining an artificial online presence on campus. To us, this represents a new way of thinking in terms of online teaching, and we all agreed that this idea deserved to win due to its originality," says Presser, who was very impressed with the way in which the students had worked with Project Star as they call it.
"The idea is that the online student is able to control the robot from home so that he can move around on his own. This makes it easier for him to follow the lectures without having to rely on help from his fellow students or the lecturers," says Lars Uldall Juhl-Jensen, who is a student on the BSc in Electronic Engineering in Herning.
Together with five of his fellow students, Henrik Kjær Jeppesen, Steen Toft Kristensen, Qazaz Kamran Mirza, Jakob Skjødt Nielsen and Chakkraphan Chanthanak, Lars Uldall Juhl-Jensen plans to continue working on carrying out the project during the spring.
Want to know more?
Read about the winning proposal Edumondo here