Lisa Løkke Rasmussen chose to study at BTECH
Most people will recognise the name Løkke Rasmussen, but maybe not the first name Lisa. Lisa is a student at the Department of Business Development and Technology at Aarhus BSS. She has agreed to tell us about her choice of degree programme - not because she is the daughter of our prime minister, but because she enjoys studying in Herning.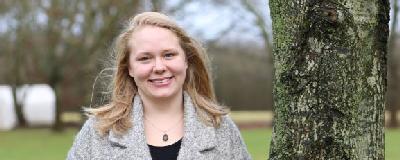 And she does: Lise is studying Economics and Business Administration and only has positive things to say about it.
At Economics and Business Administration in Herning, she is learning about how to manage and operate a business. The programme covers everything from logistics, accounting, financing and financial management to organisational management, product development, sales, project management and innovation. This suits Lisa perfectly as she enjoys working with both numbers and management. In short, she is really pleased with the degree programme - she enjoys the lessons and likes the fact that you are assigned to an older student after the lessons - by taking part in so-called tutorials where you can get help with assignments; a type of study café. She has also joined the board of studies at BTECH and enjoys having a voice. But she also likes the courses, the place itself and the town of Herning.
Upbringing
Lisa grew up in Græsted, which is a small town in Northern Zealand. That's why she is happy to study in Herning, which is not too big. She also has an aunt in Herning whom she often visited while growing up. This made the decision of moving to Herning a very easy one.
Initially, Lisa considered studying to be a teacher or studying economics at CBS, but she ended up choosing Economics and Business Administration in Herning. What it will lead to in the long run is too early to say, but she wants to take her Master's degree abroad - preferably in the UK - before completing her studies in 2019.