Events
Upper secondary school students attended innovation event in Herning
On 3 March, AU Herning hosted an innovation event. 250 upper secondary school students were invited to attend classes and create innovation projects based on input from AU Herning's researchers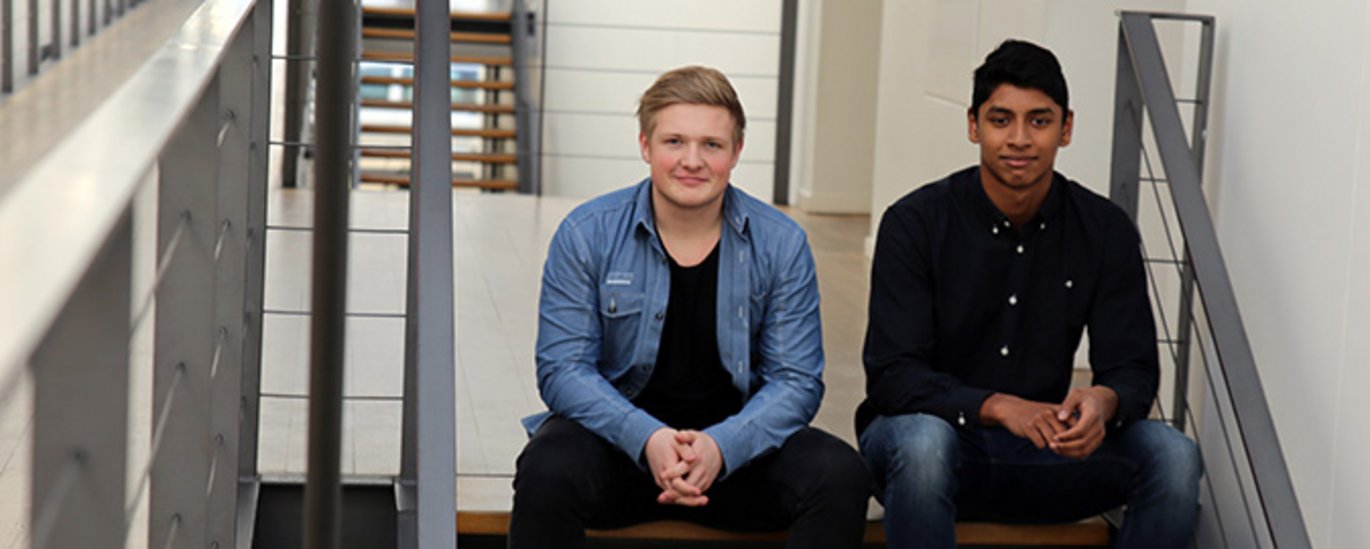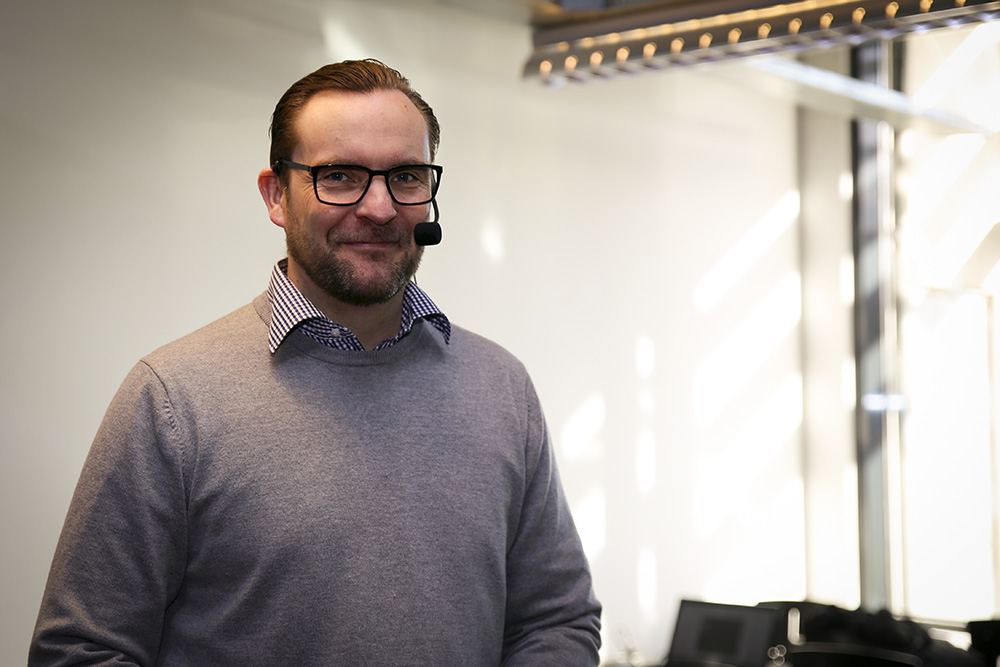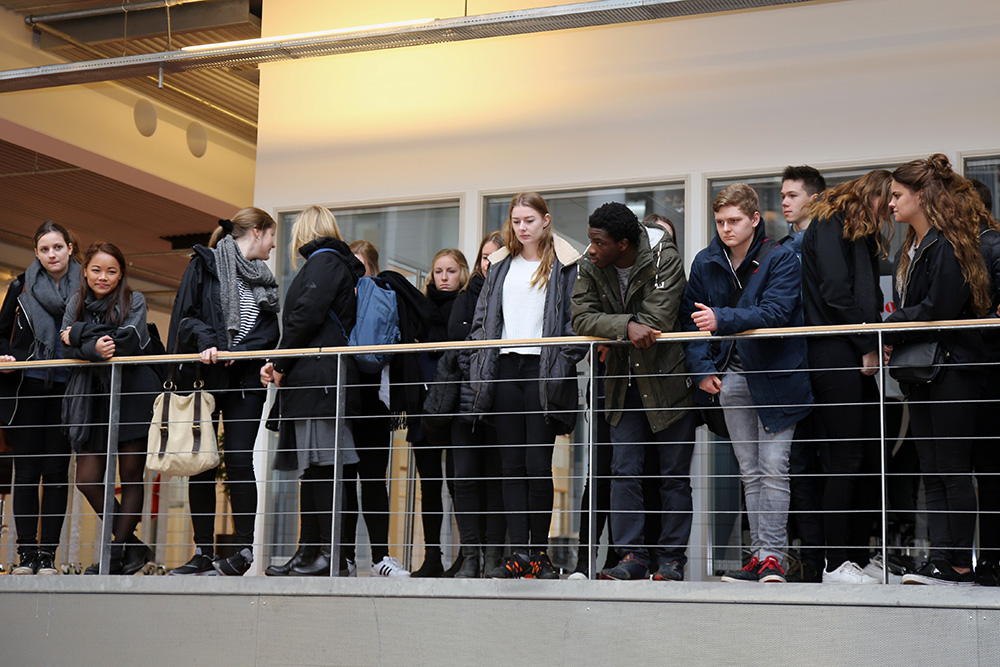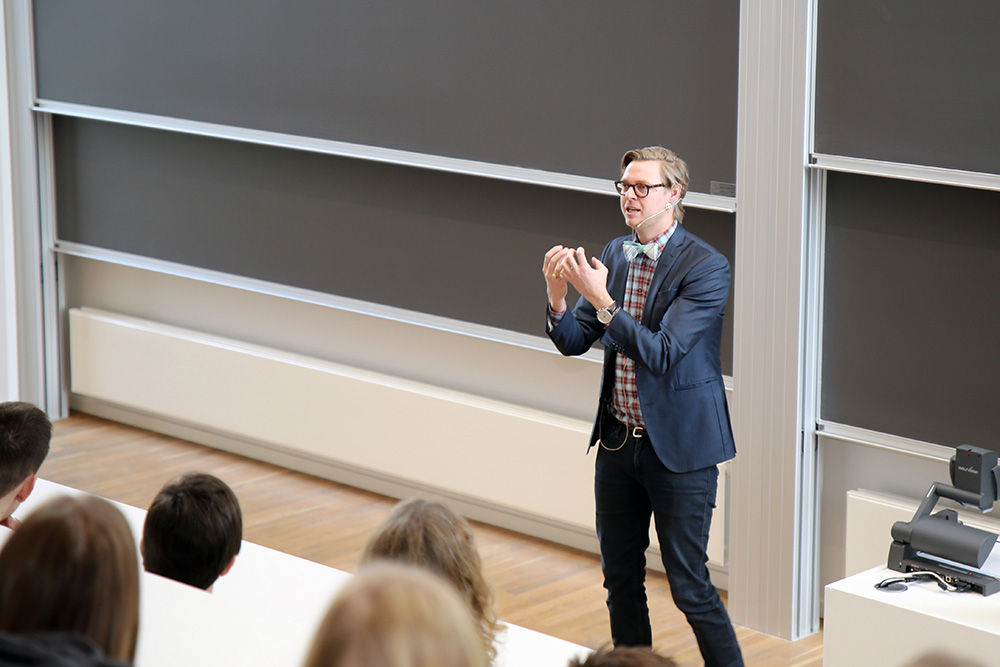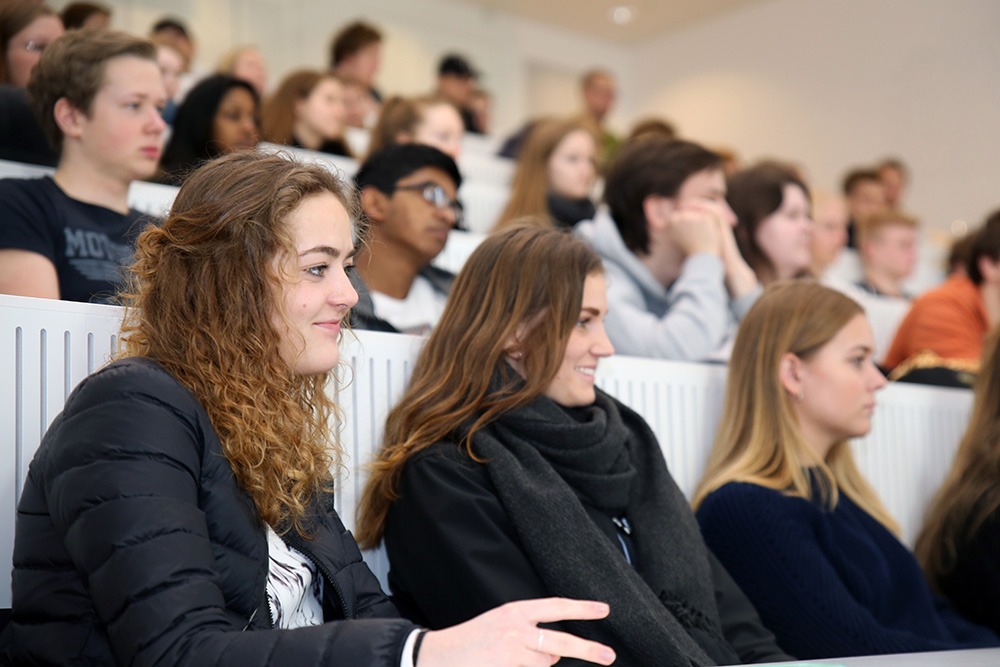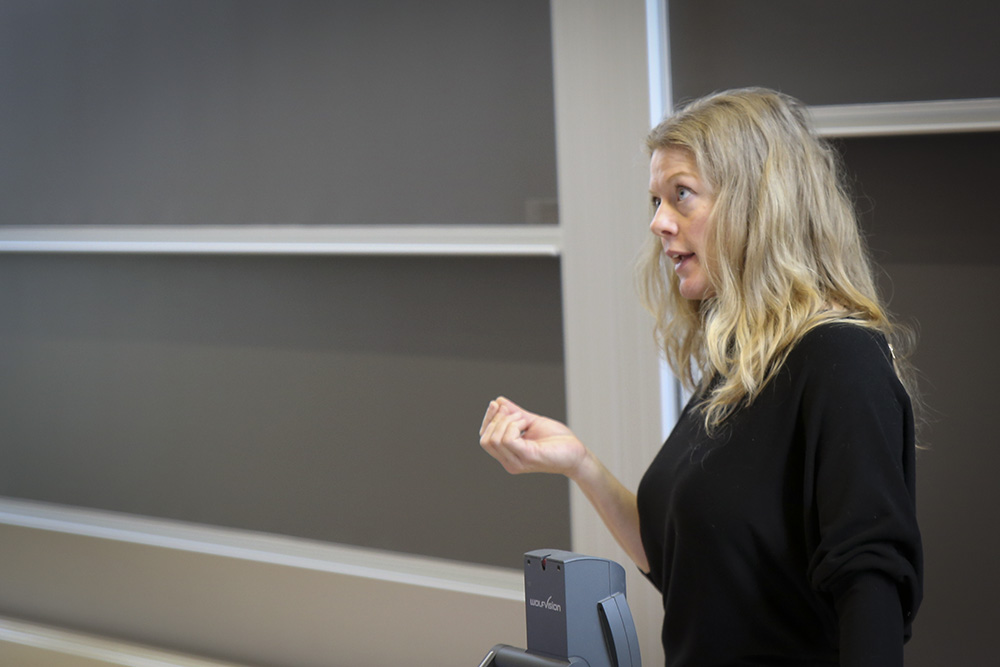 Five buses filled with students from upper secondary schools in Struer, Skive, Lemvig and Viborg arrived at Aarhus University's department in Herning for an educational day of teaching and project work.
Head of Department Jakob Kjær Eskildsen welcomed the students to the innovation event. The students were then divided into two classes and were sent off to attend lectures by researchers Jacob Brix and Tina Magaard.
Innovation: Think outside the box
"If you want to work with innovation, you need to have a razor-sharp focus. You need to think outside the box – but actually it's easier said than done," said Jacob Brix in the introduction to his lecture on innovation.
"Product development is the source of all things new," he explained and proceeded to underline that the students should never stop at that. They need to keep working, and it's important to structure this work on the basis of a business model. He then proceeded to list some of the key questions that companies need to consider before putting a good idea into practice:
How is the product to be constructed?
Which materials should you use?
Which design approaches, techniques and technologies are necessary to produce the product?
What opportunities for additional sales does this product contain?
What is the type of business that we wish to create for our customers?
How will we get employees and decision makers to accept the product?
How will we finance the start-up phase?
Who will get the purchase and sales rights?
Which norms, habits and attitudes are prevalent among the target group?
What is the legislation in the area?
Jacob Brix explained that when a company works with innovation in a structured manner, it will improve the quality of its products, and the company will be able to test its products in relation to the world that the product will become part of. Systematics is an essential aspect when working with innovation. Through this process, a company is able to learn what it's doing right and what it's doing wrong. And this knowledge is crucial for the next steps in the development process.
According to Jacob Brix, about 70-75 per cent of all new products fail. It's therefore important to remember that innovation is and will always be a learning process. You won't always succeed, but you'll learn something along the way no matter what.
"The kick-off to a good innovation process is to think it would be clever if... – this is where the really good ideas generate from," said Jacob Brix in conclusion.
Corporate Social Responsibility
In the second lesson, Tina Magaard took the stage to teach the students about the concept Corporate Social Responsibility. CSR is focused on the society and the culture in which a company operates. Ethics is a central aspect of CSR: To what extent does a company contribute to society? And where does it go beyond what the law requires?
Tina Magaard began by explaining to the students that they all come from municipalities that go beyond what is expected of them. These municipalities collaborate with private companies on a project under the Central Denmark Region focused on securing sustainability in the local community.
"It bodes well for this project. Companies and municipalities aren't able to everything themselves – on their own. But if they work together, they'll be able to get far, think differently and foster sustainable development," concluded Tina Magaard.
Tina Magaard asked the students if they were familiar with the specific sustainability and innovation initiatives that have been implemented in their own municipalities, and for most of them, unfortunately, the answer was no. To this she responded that new initiatives do not really make an impact until the young people in a given municipality also become aware of what the municipality is doing to secure the future. "The younger generation are the ones who will be bringing innovative initiatives into the future. So this is where the seeds must be planted," she said.
Jacob Brix concluded the event by telling the students that he hoped they would return schools full of new energy and with more questions than answers in their backpacks.
"Because this is what the university does to you."
AU Herning's innovation event
The innovation event at AU Herning aims to give upper secondary school students a chance to meet Aarhus University and AU Herning and learn more about sustainability, circular economy and innovation, and to gain insight into how these factors impact social development on a local, national and global scale.
Upper secondary schools from Struer, Skive, Lemvig and Viborg participate in the project focused on securing sustainability in the local community. The goal of the project is to consolidate the business development in the local areas. To this end, the upper secondary schools are working to build a bridge to the business community. This is also one of AU Herning focal points, and the work has given way to a productive community of interest that all parties are interested in sustaining.
The innovation event at AU Herning was organised by AU Connect Herning. The planning began back in 2014, when senior consultant Anna Katrine Bruun got the idea of affiliating Jacob Brix and Tina Magaard with the event.
Facts about the innovation event
The innovation event is part of a project under the Central Denmark Region, a development project involving upper secondary schools and private and public companies as well as Aalborg University and Aarhus University. The project focuses on sustainability, circular economy and innovation.
The innovation event on 3 March 2015 gave the students a chance to experience university lectures on sustainability and innovation, and to participate in project work.
Throughout the day, the students gained insight into how a company should be working with innovation, and they were introduced to a range of tools that they can use in their future careers.