Winter graduation at BTECH
Friday 27 January 2017 was graduation day at the Department of Business Development and Technology in Herning.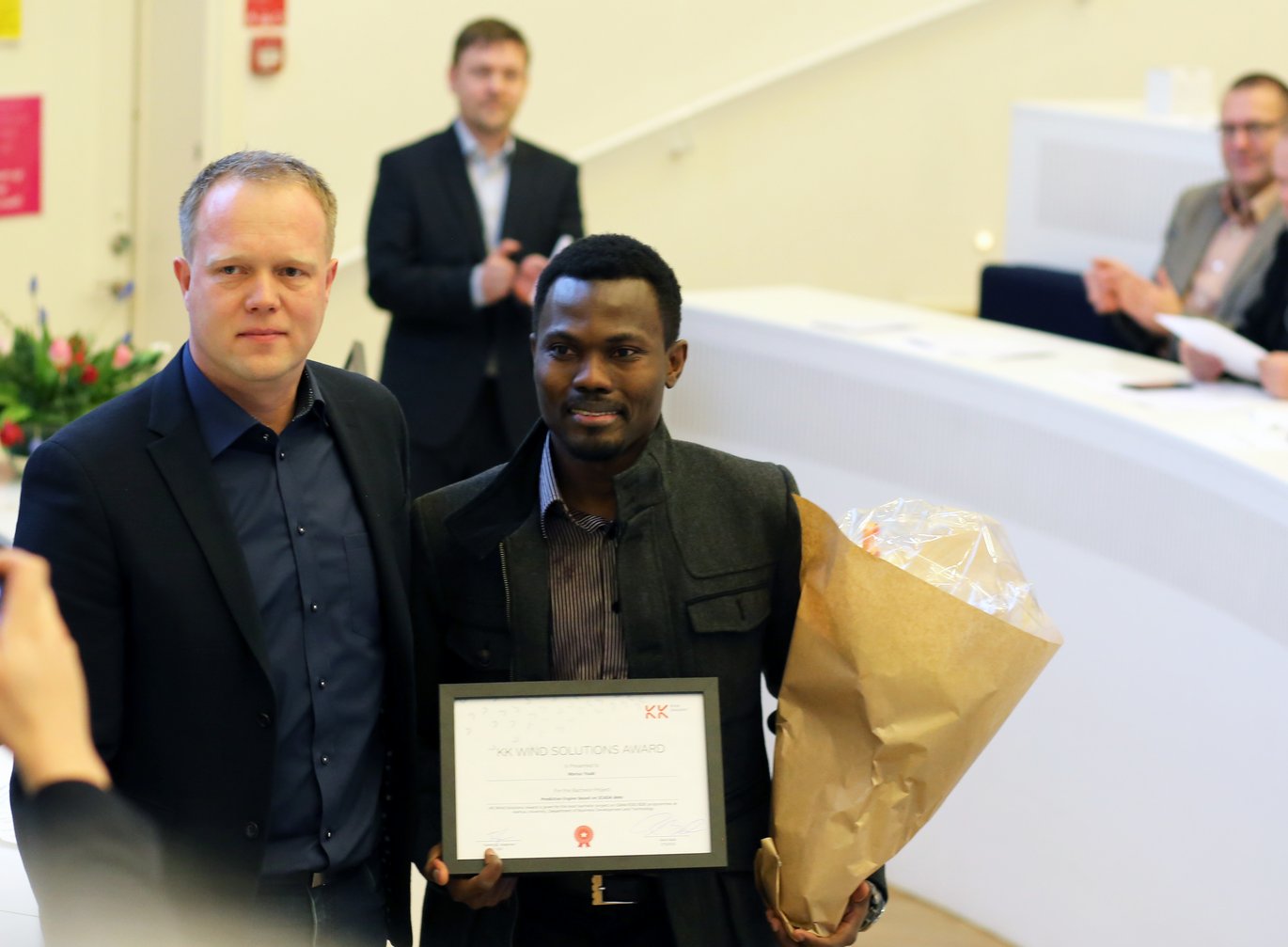 Head of Department Anders Frederiksen welcomed everyone, after which the Director of City, Business and Culture in Herning Municipality Jørgen Krogh gave the graduates ten pieces of good advice in his speech. Among other things, he advised them not to focus so much on what they can achieve for themselves, but rather what on what they can contribute to life.
Marius Ntguem Youbi
The air was full of excitement among the many graduates. One of them was given special attention, namely Marius Ntguem Youbi, who was deported last year because the Danish Immigration Service believed he had worked too much during a particular week. With the help of various people in Denmark and from BTECH, Marius was able to return to Denmark and find employment at KK Wind Solutions. This meant that he was allowed to complete his degree - and with a fantastic result to boot - the mark 12. As a result, he was able to receive the department's annual engineering award, which was presented to him by Associate Professor Henning Slavensky. With Marius' story in mind, he also had this piece of advice for the graduates: Build a network of good people and nurture it - it is through your network that things happen.
This year's graduation speech
MSc in Economics and Business Administration Wojciech Tomasz Zmijski gave this year's graduation speech, in which he focused on what is special about Herning and BTECH. BTECH is a small department, and that is precisely its strength: As a student, you are close to both lecturers and students - the lecturers are never far away, and it is easy to get a chat with them about the degree programme, the curriculum, exams or other things, and that makes BTECH unique in a very positive way. Wojciech Tomasz Zmijski is very happy to have done his degree programme here, and he can strongly recommend it to others.
Awards
The day ended with diploma presentations for all students on the BDE, EDE, GMM, MSc in Engineering, MSc in Economics and Business Administration and DL degree programmes and the award presentation:
The engineering award GMM/EDE/BDE: Marius Ntguem Youbi (Electronics)
Best thesis on the MSc in Engineering degree programme: Line Søderberg Degn (MSc in Engineering)
Best final project on the DL degree programme: Jane Vibjerg
Winter graduate of the year: Johan Christian Øllgaard Larsen (GMM)