Winter graduation at AU Herning
138 graduates earned their degrees at AU Herning last semester, and true to form they were celebrated at the annual winter graduation, which took place last week.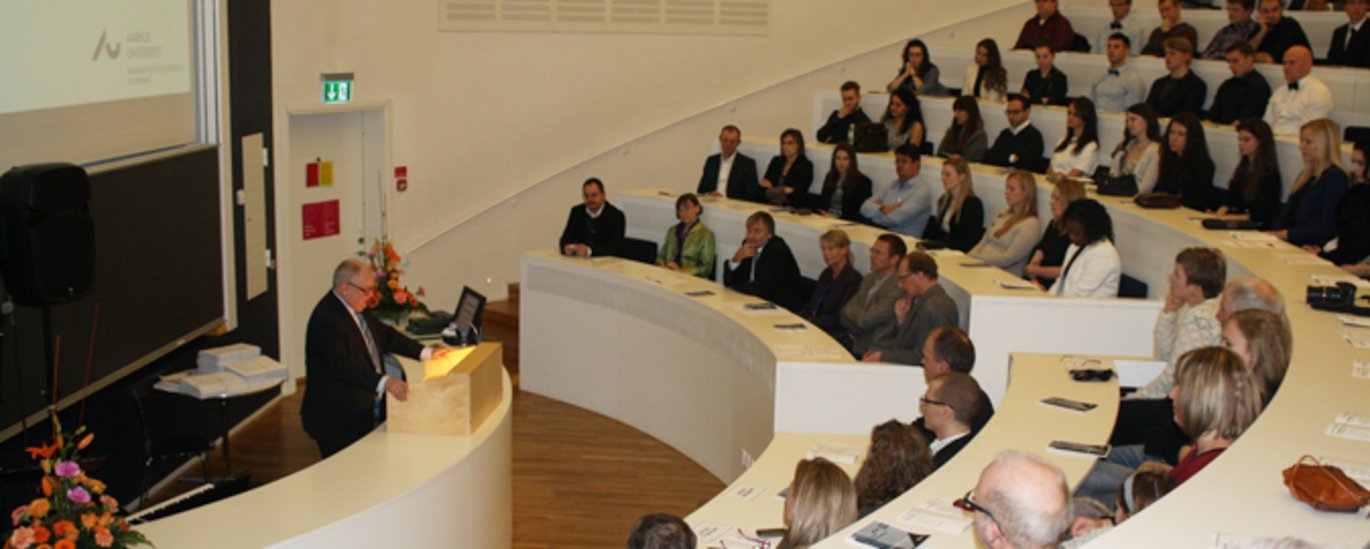 Head of department at AU Herning, Michael Evan Goodsite, had some words of wisdom for the new graduates, before they were given their diplomas. Afterwards, the annual awards for the best theses and graduate of the year were given out: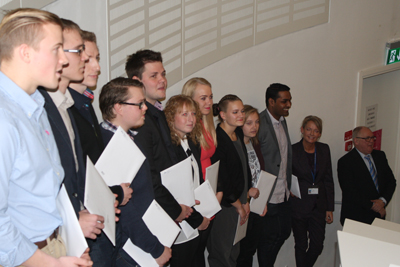 - Remember, there is always something you can improve on. Ask yourselves what you're doing that you shouldn't be doing, and, similarly, what you're not doing that you should be doing. And then you should follow that line of action – even though it may be hard to do. You should always do what you do best, and then you must find colleagues to do the rest. Last but not least, you need to remember that if you're ever thrown out of the wolf pack, then you must return to the pack or become leader of the pack, said Michael Evan Goodsite.
Make something of your particular talents
Peder Østergaard, Vice-Dean for Education at School of Business and Social Sciences, gave the festive address, in which he touched on the topic of talent and emphasised that it is all about making something of your particular talents, no matter what they are. Here he made a reference to the European Championships in handball, which were recently held in Denmark. The Danish player Mikkel Hansen is a star on the team, but without all the other team members to do some of the work, he won't be able to shine and perform. A handball star also needs his water carrier. Similarly, both stars and water carriers need a leader – such as Ulrik Wilbek in this instance, explained Peder Østergaard.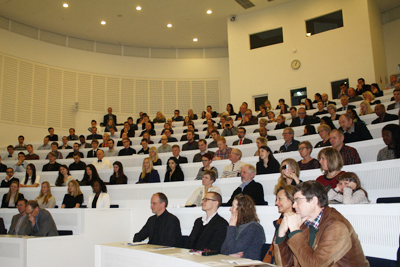 Facts
In total, 138 students graduated from the following degree programmes at AU Herning:
MSc in Engineering (Technology Based Business Development): 20
MSc in Marketing and Business Innovation: 31
HA, International Business: 3
HA, Business Administration: 6
Global Management and Manufacturing Engineer (GMM): 13
Electronic Design Engineer (EDE): 13
Business Development Engineer (BDE): 1
Graduate Diploma (HD) in Organisation and Management: 2
Graduate Diploma (HD) in Business Administration (Financial Planning): 1
Graduate Diploma (HD) in Business Administration: 7
Diploma in Management: 11
Business Engineer: 30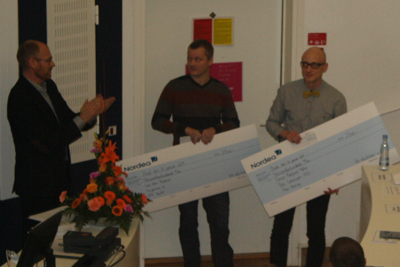 Awards and graduate of the year
True to tradition, at the winter graduation awards were given to the best theses and the graduate of the year. The awards went to the following graduates:
Winter graduate of the year (sponsored by Siemens Wind Power): Kenn Søndergaard Rytter
Best thesis, GMM (sponsored by Hans Foxby's Foundation): Aurelijus Meiliunas
Best thesis, EDE (sponsored by KK Electronic): Simon Mølgaard Møller and Lars Alex Pedersen
Best thesis, Diploma in Management (sponsored by the Danish Association of Managers and Executives): Jesper Nissen Boisen
Best thesis, MSc in Marketing and Business Innovation (sponsored by Hans Foxby's Foundation): Georg Wirtl
Best thesis, MSc in Engineering - Technology Based Business Development (sponsored by the Craftsmen and Industry Association in Herning): Kenn Søndergaard Rytter