Education created the basis for the founding of tech company
The company Siana has developed an IoT- and AI-based technology that can help its customers within the production and utility sector to avoid breakdowns caused by malfunctions or wear and tear in their machinery – particularly in rotary machines such as engines, gears, pumps and bearings used to drive conveyor belts, among other things. The idea for the company came when the founders Mads H. Gliemann and Claes Zacho were students at Aarhus University in Herning.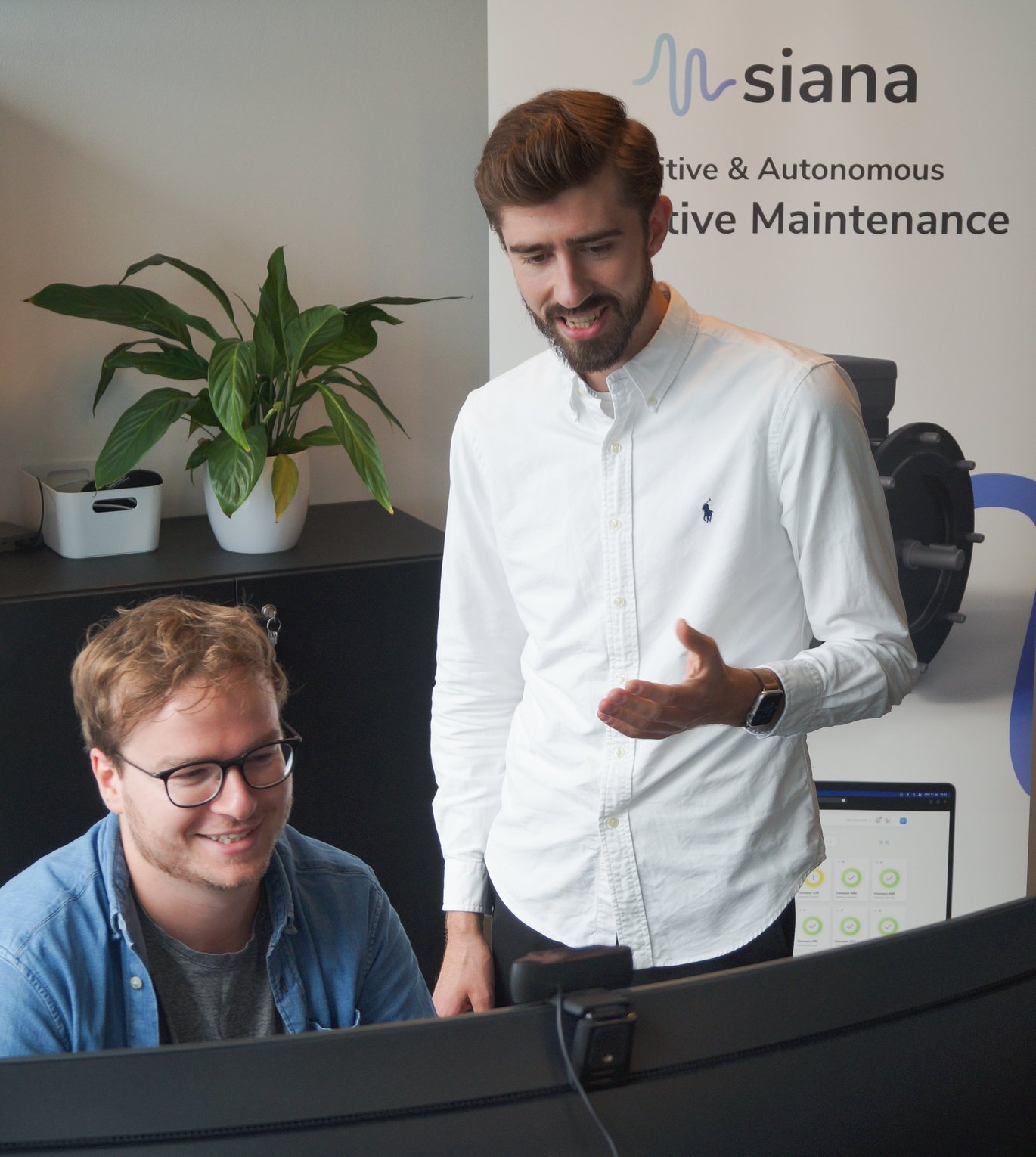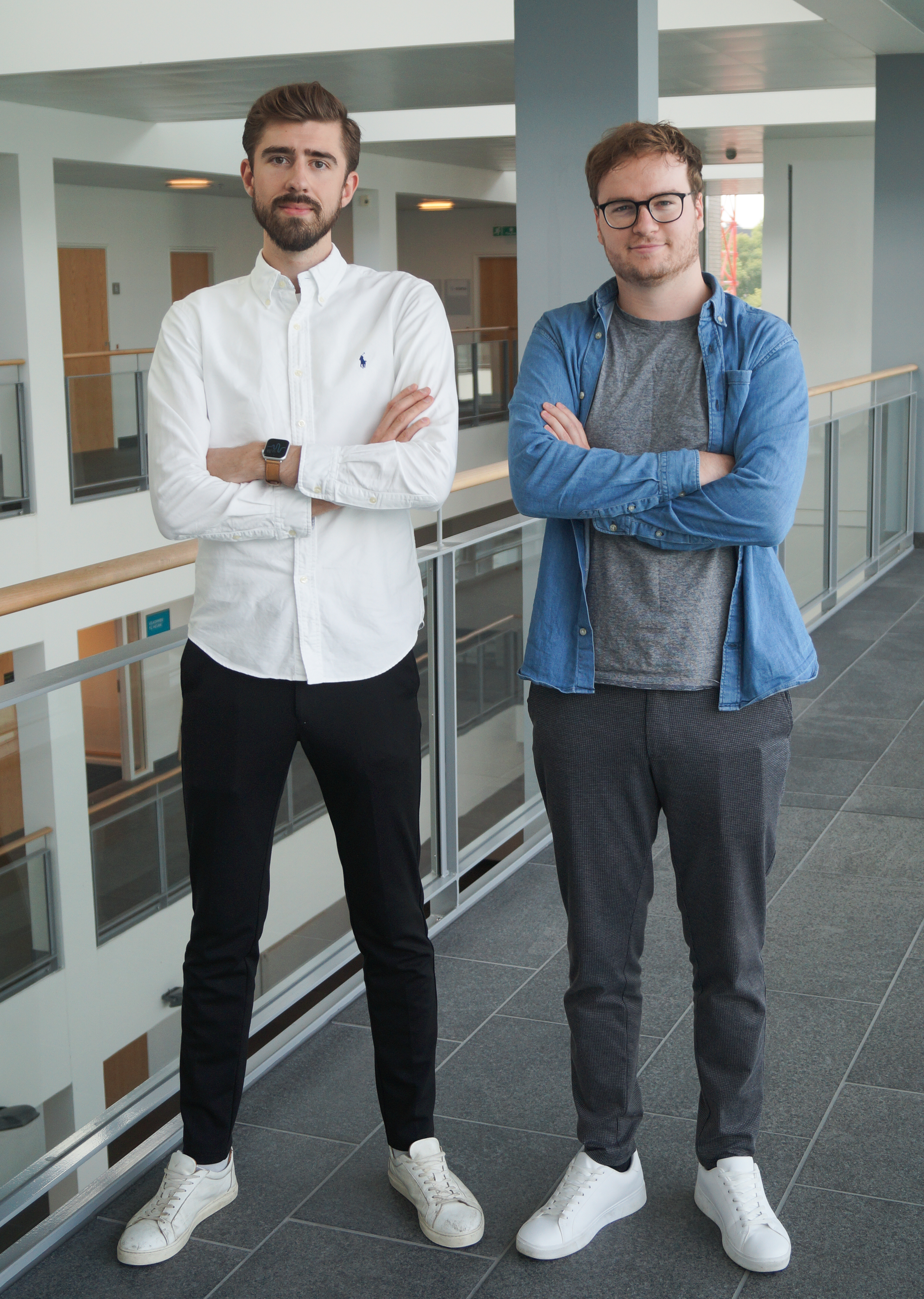 When Mads and Claes were students at the Bachelor of Engineering in Business Development (BDE) study programme at Aarhus University in Herning, they spotted at problem during a visit at a large, international production company. Many production and utility companies typically maintain their machines at fixed intervals to prevent breakdowns. However, as it is a very manual process and there are many components to maintain, it can prove difficult to perform maintenance in time. Overdue maintenance may result in suspension of production, which can be an expensive affair. Mads and Claes wanted to find a solution to that.
"One may say that we are a bit BDE by nature. We get a kick out of solving problems, and we are tech nerds," Claes says.
They wanted to create a solution that – unlike time-based maintenance – was based on the actual condition of the machine. That triggered the creation of their company Siana.
During their BDE studies, Mads and Claus learned, among other things, about microcontroller programming and web development, which led to the first simple prototype of their product. They had the opportunity to continuously test the product at the company that had initially sparked the project idea.
"The way we as BDE students worked with the semester projects was really good, both academically and socially […]. You get to work on actual problems outside the university walls, see new things and meet new people. You create real value for the companies. Perhaps even something that'll be used afterwards," Mads says.
Fast-forward to today and the company that spawned the idea is one of Siana's customers.
Predictive maintenance over manual process
So, what is it that Siana offers? The solution consists of three elements: A sensor unit, which is fitted on the machine, and an app, which is downloaded on the technicians' phones and connects to Siana's web platform, which makes up the solution's third element.
The sensor unit collects vibration data, which can be used to determine the state of the machine. This data is gathered and read, and through machine learning, a model is created for the individual machine, which ultimately can predict breakdowns. The technique is called predictive maintenance. The web platform allows Siana's customers to access the data showing the state and maintenance requirement of the machine.
The initial idea was to develop a system that the technicians in the companies can operate themselves without having to involve management or external consultants.
The education was of vital importance
The BDE study programme, the various courses and the semester projects have, according to Mads and Claes, created a solid foundation and been a main determinant for the establishment and, not least, the development of their company. On each semester, they had courses with study projects that allowed them to further explore their idea.
"The link between the technical and the commercial aspect is a hallmark of the BDE programme. It is crucial for someone like us who want to run a tech company. We needed to acquire knowledge about product development, the digital and IT aspect, but also the commercial side of things, including finance, sales, marketing, business models and strategy," Mads explains.
In the autumn of 2021, Siana included two partners – Artlinco from Horsens, which today is responsible for developing the sensor unit, and a Polish company, Grinn, which is in charge of electronics. It was important for Mads and Claes to bring in partners with competences different from their own.
Earlier this year, Siana received funding of DKK 650,000 from Innovation Fund Denmark's Innobooster programme. This summer, Siana started selling its product, and it was quickly pre-ordered by a large number of international companies. In addition, Siana has been nominated for Startup of the Year at this year's INCUBA award show in Aarhus.