The department celebrates almost 200 new graduates
For the past few weeks, the sound of champagne corks popping has filled the hallways at the Department of Business Development and Technology as the new graduates have completed their final exams and have been greeted with hugs, cheers and flowers from family and friends.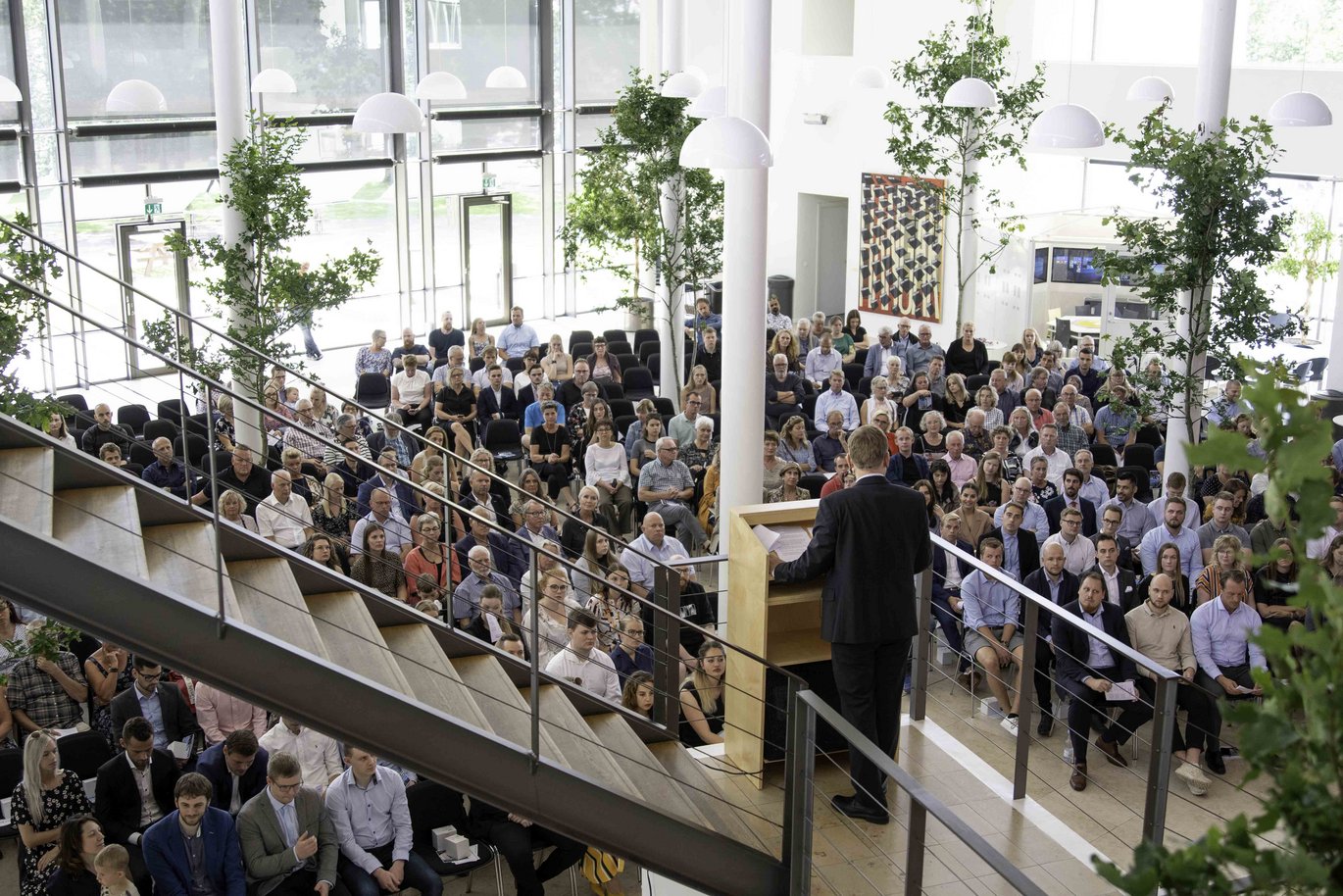 Friday, it was time for a more official, but just as important, part of the celebration, i.e. the summer graduation ceremony at the Department of Business Development and Technology. Almost 200 excited and happy students turned up with their family and friends to receive their long-awaited diploma. And with the sun blaring down outside, Head of Department Anders Frederiksen congratulated all of the new graduates in front of a cheering crowd. The new group of graduates comprises four graduates from the BDE programme, nine from the GMM programme, 45 from the BSc in Economics and Business Administration (HA), 37 from the BScB programme and 64 from the MSc in Engineering.
This year's summer graduation speaker was Mikkel Brogaard Andersen, Director, EBSC Vestas. He offered the graduates the following piece of advice:
"Don't be afraid to take a chance or take a leap of faith if it is aligned with what you believe is right, because in the end your skillset and training alone will not be able to reach you goals and dreams for you."
The final speaker of the year was graduate speaker Thomas Bjerre Bojsen, who encouraged his fellow students to:
"Remember that we all hold the responsibility to question our own knowledge as much as we question others'."
The graduation ceremony ended with participants signing the beautiful Danish song Danmark, nu blunder den lyse nat and then the 200 new graduates from the Department of Business Development and Technology were ready to conquer the world.
Recipients of this year's graduate awards
Best paper on the BSc in Economics and Business Administration Lene Kragsig K and Louis Junker-Jensen
Presented by: Inger Mørch Hauge, on behalf of Hans Foxby's Fond
Best Master's thesis on the MSc in Business Administration: Fabien Rezac
Presented by: Inger Mørch Hauge, on behalf of Hans Foxby's Fond
Best Master's thesis on the MSc in Engineering: Kristian Møller
Presented by: Eske Hemmingsen on behalf of ID
Summer Graduate of the Year: Nikki Kaasgaard Jepsen
Presented by: Patrick B. Philbert on behalf of Danske Bank