Another international star professor visits AU Herning
Professor Andreas Schotter, a leading international expert in global strategy and management, is visiting AU Herning this week to be an examiner for a PhD degree and a speaker at the graduation this Friday. He is the latest in a series of international research capabilities whom AU Herning has recently attracted.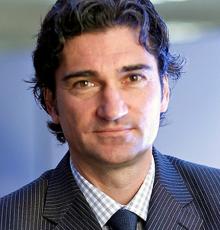 AU Herning has once again attracted an international research capacity. This time it is Professor Andreas Schotter, who is one of the leading international experts in global strategy and management. He teaches on a daily basis at Thunderbird School of Global Management in Arizona, USA, and has been named twice 'The WSJ Distinguished Professor of the Year' by the prominent U.S. business newspaper `The Wall Street Journal´.
Professor Andreas Schotter will be an examiner for the 'qualifying exam of PhD student Kristian Peter Andreasen, and will be visiting AU Herning both Thursday and Friday. In connection with the graduation on Friday, he will also give a short speech.

Future lectures by Professor Andreas Schotter are already in the pipeline for the benefit of researchers and students at AU Herning.

International capabilities visits AU Herning
Professor Andreas Schotter is not the first international capacity visiting AU Herning. This autumn, on two separate occasions, high-profile researchers were on campus.

Professor Gunther Pauli, who is behind the concept of 'Blue Economy', is an expert in sustainability and entrepreneurship. During his visit to AU Herning on 27 September 2012, he gave a lecture on the subject by request of Esben Vestergård Pedersen, engineering student at AU Herning.

Professor Louis L. Buciarelli from Massachusetts Institute of Technology (MIT) and Professor Byron Newberry from Baylor University visited AU Herning on 18 September 2012 to discuss engineering in a broader philosophical perspective, as part of the training of graduate students in engineering.