400th student on the MSc in Engineering graduates in Herning
Shortly before 2pm, Emil Kjærgaard Petersen received his final grade and with that the title of Master of Science in Engineering. As he left the examination room, he was greeted by a celebration committee. He was no less than the 400th student on the MSc in Engineering to graduate in Herning, and it seems plenty more will follow. "A lot of my fellow students in Aarhus are thinking of studying in Herning like me," said the happy and relieved graduate.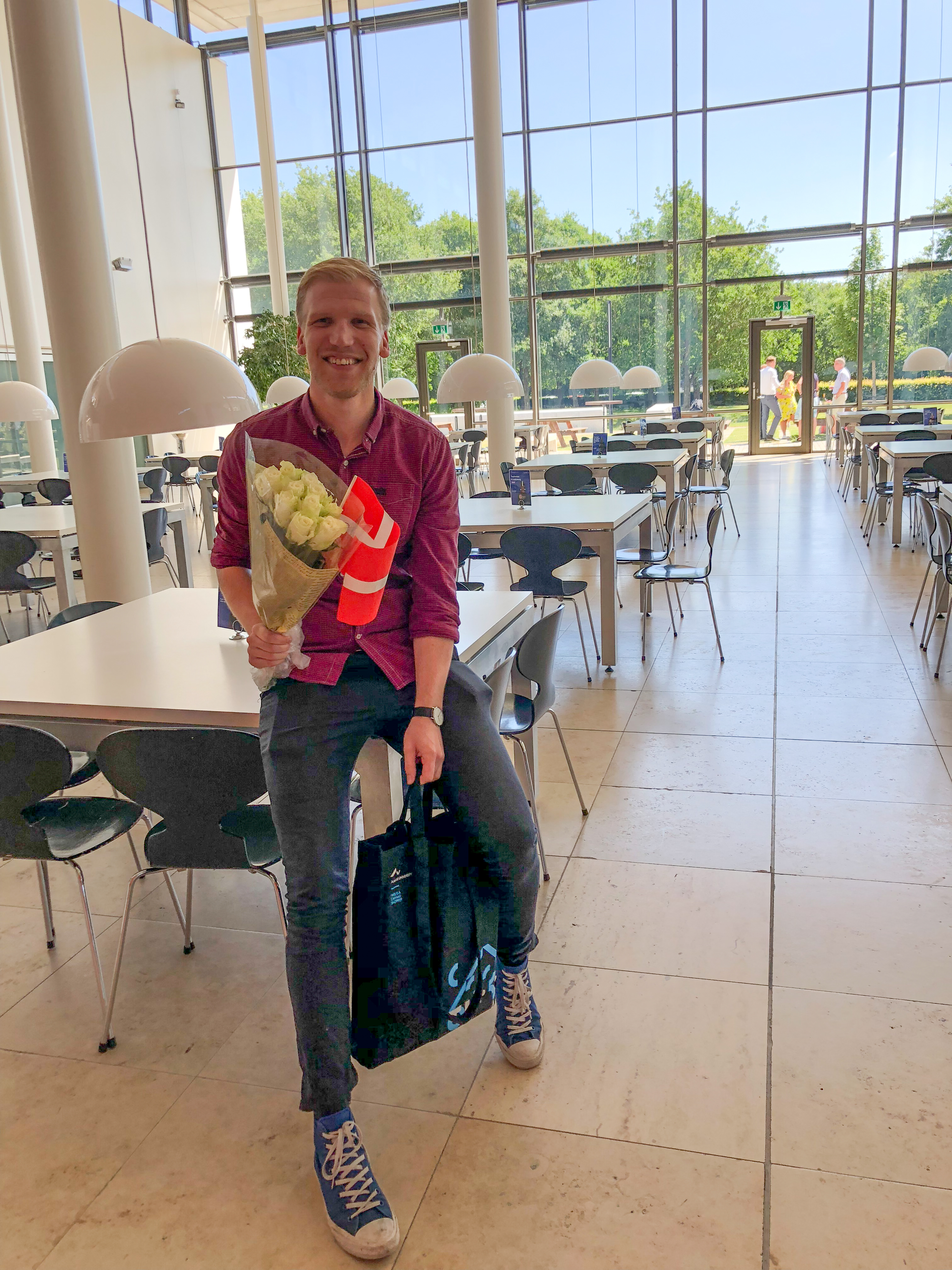 No time for vacation
Even though Emil Kjærgaard Petersen can draw a sigh of relief now he has finished his exams, he is not planning any vacation this summer.
"I am going back to work Thursday," he says with a smile and explains he has actually been working at Draupner Graphic for some time now. He feels very lucky to have permanent job in the company as of 1 July.
The job has played an important role during Emil Kjærgaard Petersen's studies, and it was the subject of his Master's thesis.
"I did a project for my workplace, where I connected touch graphics with IoT through embedded devices on Amazon. The goal was to show that it is possible to connect our product to the newest Amazon setup," the graduate says.
An Aarhus guy in Herning
With a background in electrical engineering, Emil Kjærgaard Petersen chose to study technology-based business development for six months in Aarhus before being offered a spot in Herning to finish his Master's degree.
"They gave me six month's credit, and I got the opportunity to focus on the business-side of technology and connect it to everything I had learned so far. It gave me the opportunity to learn other aspects of engineering and how to connect the two worlds. I no longer only have to innovate," he says. And even though his workplace is relatively small, they have no problem seeing the benefits of employing someone with Emil Kjærgaard Petersen's background.
"We have a lot going on, and the focus now is to learn how we best exploit my combined engineering skills. Together we will be able to develop the company even further," he concludes before joining his family for champagne and well-deserved celebratory hugs.
Along with his 54 fellow graduates, Emil Kjærgaard Petersen will participate in the graduation ceremony this Friday at the Department of Business Development and Technology in Herning.